Hey, Are You Wondering Where Can I Have My Audi Transmission Repaired Near Me?
Audis are some of the highest-rated and longest-lasting cars on the road. With reliability ratings topping the charts, Audi owners who take proper care of their vehicles can reasonably expect their cars to last decades and to retain high resale values.
What Are Some Frequently Overlooked Aspects of Audi Maintenance?
One of the most important and most frequently overlooked aspect of Audi maintenance is taking proper care of the vehicle's transmission. Because transmissions often don't need to be serviced anywhere near as frequently as other car components, many owners make the mistake of assuming that servicing transmissions on the manufacturer's recommended maintenance schedule is unimportant. But this is simply not true.
What If Fail To Change My Transmission Fluid?
Although some transmissions can go for the first 100,000 miles of the car's life without being serviced, it is still very important to get the car in for a transmission checkup and fluid change at the end of that time period. Failure to change transmission fluid and catch small faults within the transmission's components is a surefire way to end up with a blown transmission. On the other hand, taking proper care of your Audi's transmission all but guarantees that it will continue functioning in top form for years and decades to come.
Unfortunately, there is no one-size-fits-all advice for when a vehicle should be taken in to have its transmission serviced. There are a large number of factors that can materially affect when a vehicle should have its transmission fluid changed and the transmission itself inspected for damage that could become problematic.
When should I have the fluid in my transmission changed?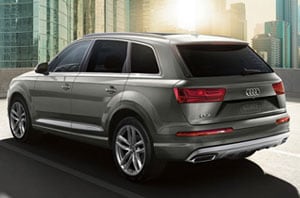 As a rule, older vehicles should have their transmissions inspected and the fluid changed more frequently than newer ones. Today's Audis are capable of staying on the road for 200,000 and even 300,000 miles with ease so long as they're properly maintained. But transmissions that are not maintained in older cars are one of the most common reasons for those vehicles to end up in the junkyard. Often, when transmissions blow out in older vehicles, the replacement or repair costs exceed the market value of the car. Staying on a solid transmission maintenance schedule can almost always prevent catastrophic failures of transmissions.
Does The Climate Affect A Vehicle Transmission?
Another factor is the climate in which the vehicle is being driven. Hotter climates put more strain on the components within a transmission. Hot environments can also lead to faster breakdown of the transmission fluid, leading to additional heat generation and stress on the transmission's moving parts.
Does The Type of Driving I Do Affect My Transmission?
The type of driving that is being done is also an important factor in determining transmission maintenance schedules. Vehicles that are used for towing or that engage in constant stop-and-go urban driving should be serviced more frequently than those that are driven lightly or on the highway.
Finally, the type of transmission itself is one of the biggest factors in shaping the vehicle's optimal transmission servicing schedule. Manual gearboxes are generally capable of being driven for far longer and under conditions of much higher stress without being serviced than automatics. This is one reason that almost all transmissions in semi-trucks are manual.
What About The Continuously Variable Transmission (CVT)?
Some of the highly complex and modern transmissions, like CVTs, which rely on extensive electronics and sophisticated mechanical components, may need to be serviced more frequently than even other types of automatic transmissions.
If you have further questions about when to take your vehicle in for transmission servicing, please contact Audi Springfield today.