Audi AC Repair in Springfield, MO
While most people bring their vehicles in for regular oil changes and brake service, AC maintenance is a task that's often neglected. Your Audi's AC system plays an important role in its overall comfort. Who wants to drive around all day sweating in the hot sun? It's something that many drivers take for granted until the day their system stops working.
It's important to get your AC serviced on a regular basis to ensure that it's always ready to keep you cool. Despite the exceptional build of Audi vehicles, AC systems are susceptible to a wide range of issues. Whether you're already suffering from an ineffective cooling system or you're starting to notice signs that it's not performing as well as it should, bring your Audi to our dealership today. We'll be able to diagnose any issues and provide valuable preventative care.
How Often Should My AC Be Serviced?
Generally, it's recommended that you go to get your car's AC equipment serviced once a year. More frequent inspections are a good idea during the warmer months or if you're someone that has to drive a lot. Components break down over time due to regular use and constant stress from the changing weather. Not only that but many vehicles lose up to 10% of the critical gases and fluids used to cool the air each year. When you bring your car in for an inspection, we'll be able to examine every part of the system. If we find something that could cause you headaches in the future, you'll be able to be proactive and avoid complete system failures.
What Does AC Service Entail?

In addition to a thorough inspection, our mechanics will perform a number of tasks to enhance your AC's performance. Our goal is to prolong the life of the system and make sure that it's fully capable of operating like it's supposed to. During a typical tune-up service we'll:

Check refrigerant and oil levels
Replenish fluids if necessary
Check air vent temperatures
Adjust drive belts and pulleys
Test for leaks
Get rid of dust and moisture
Replace or clean filters
Clean and sanitize components
How Do I Know That My AC Needs Service?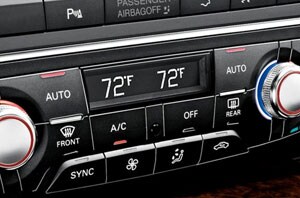 Chances are, you'll notice right away that your Audi's AC system is not as efficient as it once was. However, AC problems can be tricky to diagnose. In many cases, symptoms will make themselves known one minute and be gone the next. Equipment can be very finicky, especially if its a mechanical or electrical connection error. Unfortunately, most vehicles don't have an indicator light to tell you when you need to get it serviced. Here are a few telltale signs that you need to take your Audi to Audi Springfield.
No Air or Warm Air
If your air conditioner is blowing light air or none at all, you may have a damaged blower motor. If the air that does come out is warm, you're likely experiencing refrigerant issues.
Leaks
Leaks are quite common and usually happen near the floor on the front passenger side of the vehicle. When this happens, you might have a clogged drainage hose that's preventing excess moisture from the evaporator from draining out of the car.
Foul Odors
This problem is a byproduct of a leaking AC system. Small leaks can cause water or fluid to accumulate inside the vents. Eventually, mold will grow. It's an unpleasant situation that can stink up your car every time you turn the AC on.
Loud Noises
Grinding or rattling noises can be very worrisome. It may indicate that components inside your system are broken or about to fail completely.
If you're experiencing any of these problems, come pay our dealership a visit today. We'll work hard to keep your Audi's AC system in good working condition.