What is Audi e-tron?
It's the first all-electric vehicle—a SUV—from the luxury automaker. When asked 'What is the Audi e-tron," a longer answer is that it's a roomy, powerful and good-looking electric-powered mode of transportation that's equipped with electronics to keep drivers connected and engaged.
How Do Audi e-tron Vehicles Charge?
The two electric motors of the Audi e-tron SUV are 80 percent charged after 30 minutes at a public commercial charging station. On that charge, drivers can travel up to 160 miles. At more than 16,000 high-speed charging stations spread out across the country offer this quick 150 kW DC charging capability. Another way to prepare the car for a drive is from the home garage where owners plug the vehicle's 9.6kW AC charging capsule into a 240-volt outlet. After nine hours, the vehicle is ready to drive.
While many home garages have a 120-volt outlet, which allows for charging in 80 hours, Audi notes that it has partnered with Amazon Home Services to put owners who want an upgrade to 240 volts in contact with an approved registered electrician. The vehicle's motor is backed by an eight-year-/100,000-mile limited warranty, whichever comes first.
All-Wheel Drive, Air Suspension and Performance
Over three decades ago, Audi was the first automaker to introduce a passenger car with permanent all-wheel drive that it calls Audi Quattro. Of course, the Audi e-tron has the latest version of this system to allow drivers to get better traction in the toughest road conditions. The Audi e-tron is equipped with all-wheel air suspension, and drivers can choose from five modes, including off road, to get a smoother ride. This SUV goes from zero to 60 mph in 5.5 seconds and it can reach speeds of up to 124 mph. With a towing capability of 4,000 pounds, drivers don't have to leave their toys at home. The motor has a special liquid cooling system to promote reliability and to help stymie overheating.
Vehicle Management System and a Ride That's Quiet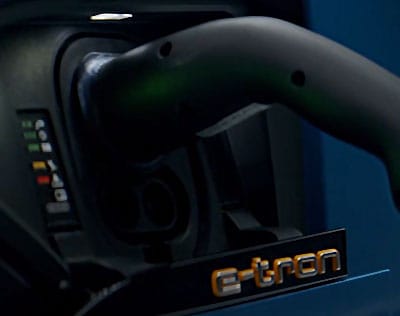 A 10-inch touch screen makes the particulars of the infotainment system visible so drivers can adjust and request particulars about navigation and the entertainment system. The Virtual Cockpit is a digital display in HD with gauges to help make driving more efficient as they keep drivers well informed. And from the car, they can manage their Amazon Alexa devices.
A roomy vehicle that seats five, the Audi e-tron also delivers a quiet ride. Auto engineers explain that since electric cars are inherently quieter than vehicles with combustion engines, sounds from the outside can be easily heard. Audi aero acoustic team worked hard on ensuring that people inside this SUV experience little unwanted noise. The result is one of the quietest rides in its class.
Audi aims to have 33 percent of its new cars electrified by 2025. This means that the automaker is focused on making electric-vehicle performance better and better. To learn more about the high performance e-tron SUV, contact Audi Springfield.