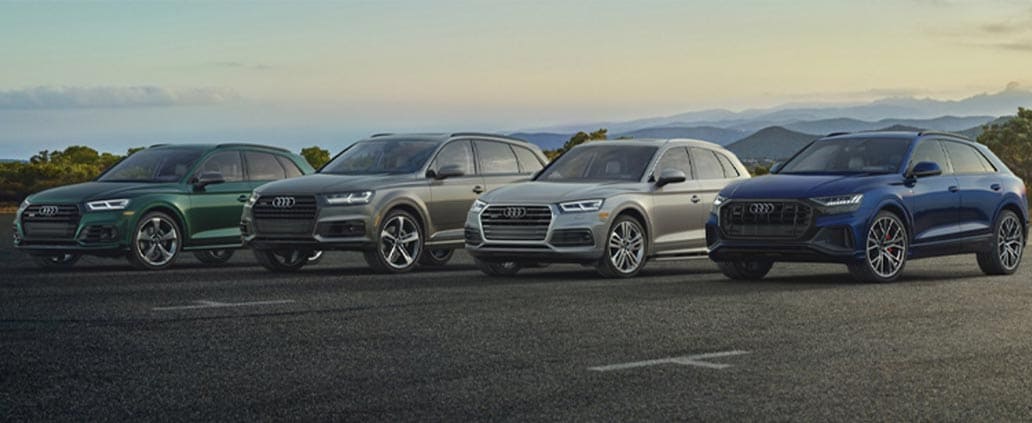 Audi is a young and trendy car manufacturer that is becoming the lifestyle favorite in the automotive world. Drivers are trying to ditch the serious image of other luxury German autos to enjoy their lives and express this desire through their vehicles. And Audi continues to engineer its vehicles with innovation that make them all very desirable. Among the most sought after models are the Audi Quattro that features a sophisticated all-wheel-drive system that is the envy of the automotive world. Let's consider what Audi model is the right fit for you, below.
Economical
If you are looking for an entry-priced vehicle in the Audi lineup, the Audi A3 sedan sets a base price that is hard to beat for the luxury of German engineering and performance. For just $33,300, you can drive away in a nimble Audi loaded with features. For about $6,000 more, you can upgrade to an Audi A4 and obtain more of the luxurious options as standard features.
Fuel-Efficient
The Audi e-Tron 55 Quattro is the winner in this arena with an estimated 107 mpg energy equivalent. Although this is an all-electric vehicle, it is still the most economical choice if eco-consciousness is on your mind. The Audi A3 TDI is the top gun for drivers who want traditional combustion engines. This diesel-driven automobile has an estimated mpg of 43 miles per gallon. Either choice will save you a lot of money at the pump and still provide you with a powerful drivetrain.
Performance
Any of the RS or R8 models will connect you with the ultimate performance available. Even the RS 3 sedan is worthy of applause for its 3.9-second 0 to 60 and 354-lb.-ft. of torque. Jump to the R8 Spyder and make that 0-60 in just 3.5 seconds thanks to its 5.2 Liter V10 powerplant. The top speed on the Spyder is a breathtaking 198 miles per hour, certainly fast enough to outpace the competition on the straightaways. The R8 coupe steps up the horsepower with 610 ponies under the hood, inspired by GT3 racing.
SUVs
For drivers who need all the roominess of an SUV and the sporty handling of a racecar, the Audi Q-Series meets the mark every time. Choose from the economical Q3 and Q5 models or indulge in the top performance and luxury of the e-Tron and Q8 models. The turbocharged V-6 and 5-passenger seating makes the Q8 more of a crossover than an SUV. The Q7 is more like a traditional SUV and is built to accommodate 7 occupants with its third-row seating.
Contact Audi of Springfield when you are ready to step into a vehicle from the pioneer of luxury, excitement, performance, and pleasure in one package. Choose from any of these Audi models and come in for a test-drive to experience them for yourself.