Choosing a new car can be stressful. Test drives can be especially stressful if you do not know what you are looking for. If you are in the market for a new or used car and you are looking at an Audi, congratulations! Audi makes some of the best cars on the road and you will never regret buying one. Here are five quick tips to ensure you get the most out of test driving your Audi.
Make sure you are comfortable
This tip seems silly, but it is not. Test drives tend to be quick: get in, get situated, go for a spin. Whatever car you end up buying will be yours for quite some time, more than five years. You owe it yourself to get into the seat and get as comfortable as possible. Adjust the mirrors until you can see . Move the chair forwards and backwards and test out the lumbar support. Do whatever it takes to assess whether the Audi your testing is perfect. After all, there are plenty of other Audi models to choose from.
Try to use some of the gadgets
Do not hesitate to go through some of the gadgets. You may not feel comfortable integrating your phone with a model that other people may drive, so feel free to ask your sales associate to sync their phone. Audi builds luxury cars that have luxury features. It is important you get acclimated with all of the incredible features your Audi will have. It might be overwhelming, since there are so many features to go through. Your local dealership sales associate will take you through your Audi's features to make sure you are comfortable.
Check the safety features
Feel free to ask your sales associate to demonstrate the safety features on your Audi. Almost every Audi on the road comes with a full complement of active driver assists which should be demonstrated. Assists like blind spot monitoring and cross traffic monitoring are easy to demonstrate, while more advanced forward collision braking and similar should be left to a professional to establish.
Make sure the car fits your needs
The Audi A4 is a fantastic sedan that has the sort of driving dynamics you dreamed of when you were a child. What the Audi A4 does not have is passenger space for six people. In other words, make sure you are test driving an Audi that fits your needs, unless you want to test drive a car without wanting to buy it.
Have some fun!


Audi makes some of the best performance-luxury vehicles on the road. The most important thing to do on a test drive is have some fun! Audi's are built to be driven, so have confidence in them! Kick the spurs to it! Obey all local traffic laws, of course, but still drive the Audi the way you have always wanted to drive.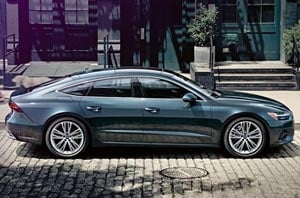 Use these quick and easy tips to better appreciate the exceptional Audi you are test driving. You can contact your local dealership today for any additional information you might need. Better yet, why not contact your local dealer to schedule a test drive today?