With Virtual Cockpit, Audi provides a fully digital instrument cluster focused on all the driver's needs. Audi uses in-car technology to replace the typical analog dials with an adaptive TFT screen. Audi first unveiled the Virtual Cockpit on the Audi TT Mk3 released in 2014. Over the following years, more and more models were equipped with Virtual Cockpit, including the Audi A3, A4, A5, S4, Q5, Q5, and R8.
As of 2018, Virtual Cockpit has become a standard feature equipped on most of Audi's upmarket models, the TT, the R8 supercar and the RS-performance models.
Audi Virtual Cockpit MMI Infotainment System
With this multi-media interface infotainment system, Audi replaces the traditional gauges with configurable digital dials right positioned beneath the driver's field of vision. The adaptive TFT screen puts everything from music playlists to fuel efficiency just a fingertip away. The display spans 12.3 inches and provides information in high resolution. This is not a touchscreen, Virtual Cockpit is either controlled by your voice or the knobs, buttons and or touchpad mounted on the steering wheel and interior.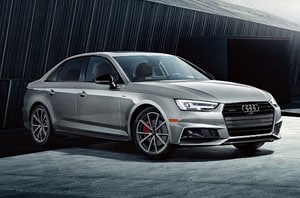 The Virtual Cockpit can also display a satellite-rendered map and turn-by-turn directions conveniently right beneath the driver's eye-line for reference. This infotainment system provides one of the safer ways to use navigation apps and access important information while driving. Virtual Cockpit also allows drivers to change how size and look of instruments and the depth or scope of the information displayed.
The navigation is powered by Google Maps and connectivity runs on Audio Connect 4G LTE. The system runs in three modes: Sport, Infotainment or Classic. Drivers using Classic mode will adhere to the more traditional cluster layout that displays information between the speedometer and tachometer. Infotainment mode prioritizes the data that is displayed. The Sport mode is offered in the sport trims is designed for drivers who prefer a more basic, old-school display.
To find out more about how the different Audi models equipped with Virtual Cockpit, head down to Audi Springfield and check out some of the vehicles in person.