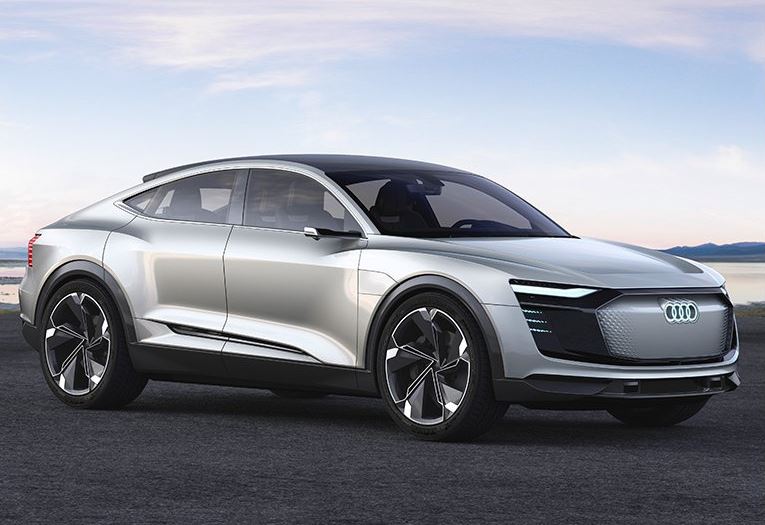 Combining ultra-posh luxury and all-electric mobility, the Audi e-tron Sportback concept is stunning at every angle. Radically different than any other all-electric vehicle currently on the market, the e-tron Sportback is sure to turn heads.
On the outside, the crisp, clean lines flow seamlessly into the vehicle's rear. The electric motor does not need a large opening like that of a gasoline engine, so instead the grille is sleek, small and nothing like you've ever seen. The concept embodies a structure pattern emblazoned with the signature Audi four rings logo, giving the car an extra touch of class and elegance.
Oversized 23-inch wheels are paired with the coupe's savvy 6-spoke design, adding to the vehicle's overall aggressive exterior persona. Additionally, petite cameras replace the exterior mirrors for enhanced airflow and a significant reduction in wind noise.
Inside, the energy storage units disappear under the coupe's floor, and the electric powerplants use much less space than a gasoline engine with its bulky gas tank. For its small stature, the concept fits up to four occupants comfortably. The cabin's main focal point is the driving area and controls. The black-panel display placed behind the steering wheel is sharp and futuristic, appearing black when inactive.
Powering the e-tron Sportback is three powerful electric motors – one strategically located on the front axle and two on the rear axle. The engines are capable of producing up to 370 kW – plenty of power to get you where you need to go. Power is transferred to all four wheels via the car's smooth automatic transmission.
Stunning and elegant are just a few ways to describe the e-tron Sportback. If you're in the market for a high-end vehicle that exudes refinement, be sure to check out our current collection of Audi models. We look forward to helping you take your drives to new heights.